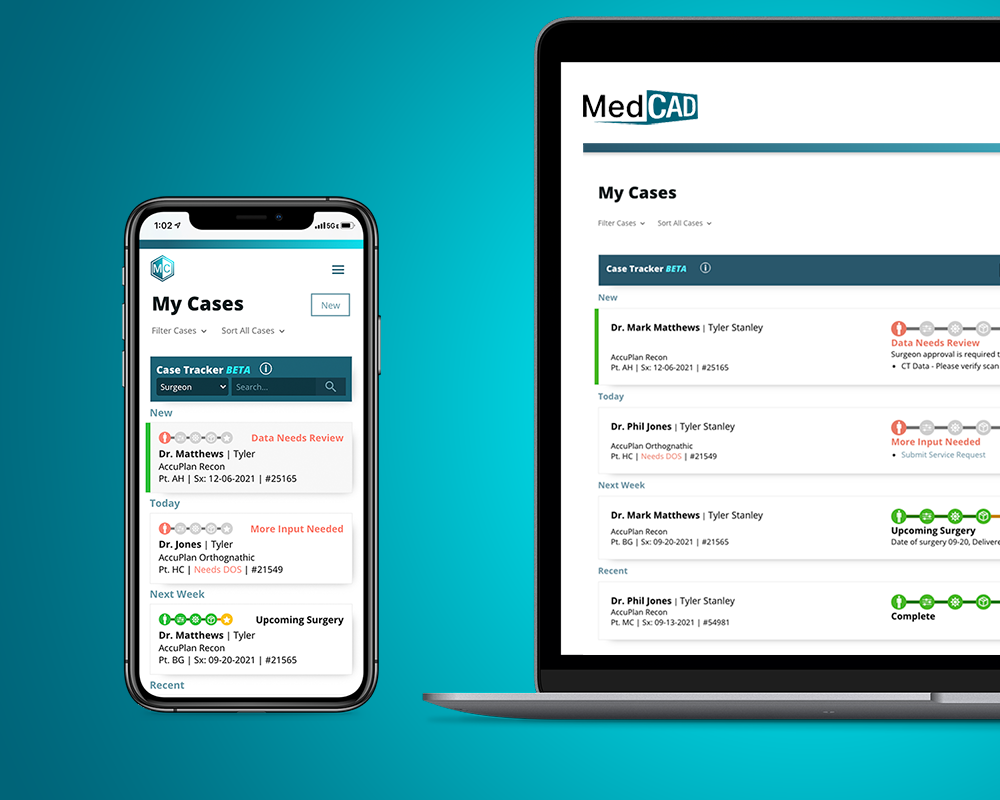 Increasing Case Visibility and Control
In time for the official launch of AccuPlate and to keep up with increasing demand for Custom Surgical Solutions, MedCAD is upgrading its customer support with MyMedCAD – a personalized case tracking web app designed to provide customers with increased visibility and control over the medical device customization process.
"MedCAD makes medical device customization simple – which is impressive for such a complex process behind the scenes," explains Nancy Hairston, President and CEO, "Over the past several years we've developed and refined our internal case management solution to work with a variety of products, services, manufacturing technologies and geographic locations. The obvious next step was to unlock that power for our customers."
What is MyMedCAD?
MyMedCAD is a mobile-first case tracking solution built on MedCAD's proprietary end-to-end case management software. 
"Overall, our customers needed a quick and easy way to view their case information while on the go," says Parker Smith, program lead for MyMedCAD, "and MyMedCAD case tracking is the perfect next step for our scalable software solutions."
In terms of features, MyMedCAD provides real-time case statuses for all of a customer's cases, automatically sorted by relevance. Contextual links direct users to launch a planning session, track a shipment or start a service request, with advanced filtering and searching capabilities. Cross-platform responsive design allows for optimized experiences on mobile, tablet and desktop devices.
Launching MyMedCAD
"We do everything we can to help sales representatives and surgeons do their best work," says Charlie Ritchie, Design Services Manager," so we are excited to extend our powerful case management system to customers with MyMedCAD." 
To register, customers simply submit a service request for their next case to receive an activation code. Registration and use is free and open to all MedCAD customers and partners.
About MedCAD 
MedCAD is a privately held company in Dallas, TX. Founded in 2007, MedCAD is a nimble innovator in the patient-matched medical device industry offering cranial implants, patient-matched plating, surgical planning, and 3D modeling products and services. MedCAD is known for its high-quality products, spectacular customer service and concierge-style case management.
Forward Looking Statement
Certain information set forth in this presentation contains "forward-looking information", including "future-oriented financial information" and "financial outlook", under applicable securities laws (collectively referred to herein as forward-looking statements). Except for statements of historical fact, the information contained herein constitutes forward-looking statements and includes, but is not limited to, the (i) projected financial performance of the Company; (ii) completion of, and the use of proceeds from, the sale of the shares being offered hereunder; (iii) the expected development of the Company's business, projects, and joint ventures; (iv) execution of the Company's vision and growth strategy, including with respect to future M&A activity and global growth; (v) sources and availability of third-party financing for the Company's projects; (vi) completion of the Company's projects that are currently underway, in development or otherwise under consideration; (vi) renewal of the Company's current customer, supplier and other material agreements; and (vii) future liquidity, working capital, and capital requirements. Forward-looking statements are provided to allow potential investors the opportunity to understand management's beliefs and opinions in respect of the future so that they may use such beliefs and opinions as one factor in evaluating an investment.
These statements are not guarantees of future performance and undue reliance should not be placed on them. Such forward-looking statements necessarily involve known and unknown risks and uncertainties, which may cause actual performance and financial results in future periods to differ materially from any projections of future performance or result expressed or implied by such forward-looking statements.
Although forward-looking statements contained in this presentation are based upon what management of the Company believes are reasonable assumptions, there can be no assurance that forward-looking statements will prove to be accurate, as actual results and future events could differ materially from those anticipated in such statements. The Company undertakes no obligation to update forward-looking statements if circumstances or management's estimates or opinions should change except as required by applicable securities laws. The reader is cautioned not to place undue reliance on forward-looking statements.